There are other
reference
lists
with
stunts
in them, but I found I wanted two things I haven't seen elsewhere:
* a single page document, to be maximally friendly to new players
* equal focus on all four kinds of stunts, so new players are encouraged to use stunts both in and out of combat
So I made my own sheet. Feel free to use it anyway you wish!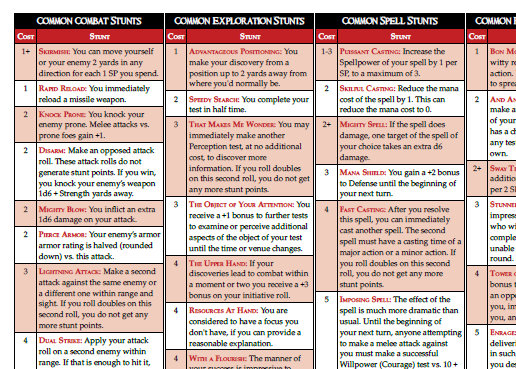 Download link:
http://www.mediafire.com/?3q4xovowautgpgv
(1 page PDF)
This sheet does not claim to be comprehensive: it does NOT contain all stunts. Its purpose is to allow a new player to gain an overview of what's possible with stunts (in and out of combat) - to kick-start his or her imagination, as it were!
I've tried to include most of the important stunts, but some stunts were cut not because they're obscure or rarely used, but simply because a useful description would have taken up too much space.
Comments welcome /Zapp